Tests and Approvals Confirm Hygiene Science Products' Efficacy and Safety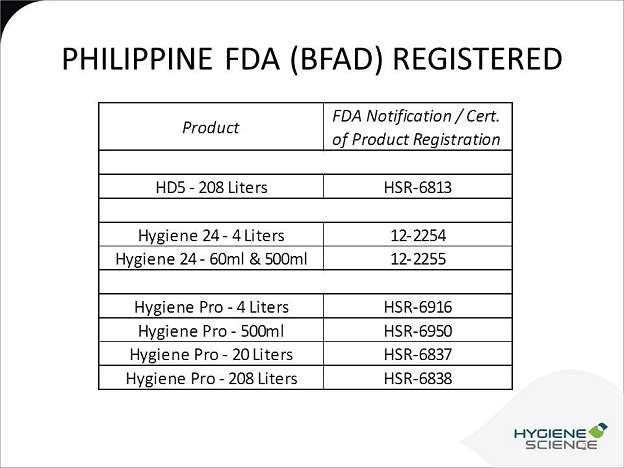 How the Active Ingredient (HD5) Works

The C18 chain of the active (HD5) appears to be a food source of a "friendly" environment. The electrostatic charge on the nitrogen disrupts the cell wall (lysis) and the microbe dies.


Background

Researchers discovered a way to attach biocidal agents permanently and directly to a wide variety of surfaces.

The result is a non-volatile biocidal polymer that does not dissipate over time.

This extraordinary technology provides continuous, durable activity that prevents microbial re-infestation.

Product Characteristics

A clear, colourless, antimicrobial solution containing pure active in pure water.

Contains no thickeners, colorants, dyes or additives. May contain a harmless fragrance.

Contains no chlorine and on microbial interaction will not produce carcinogenic halogenated by-products.
Read More
Dohle Ship Management Now 24/7 Hygiene-Protected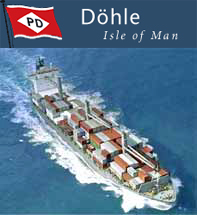 Döhle (IOM) Ltd is a global ship management services business of The Peter Döhle Group headquartered in Hamburg, Germany.

The company has offices in Philippines, the Isle of Man, India, Poland, the Ukraine and Romania and provides crew, technical, commercial and corporate management.

Döhle (IOM) Ltd operates in accordance with the International Safety Management Code (ISM) and the International Standards ISO 9001. In their Philippine office is located in Dohle Haus Manila. 30-38 Sen. Gil Puyat Avenue, Barangay San Isidro Makati City. (Website: http://www.doehle-iom.com)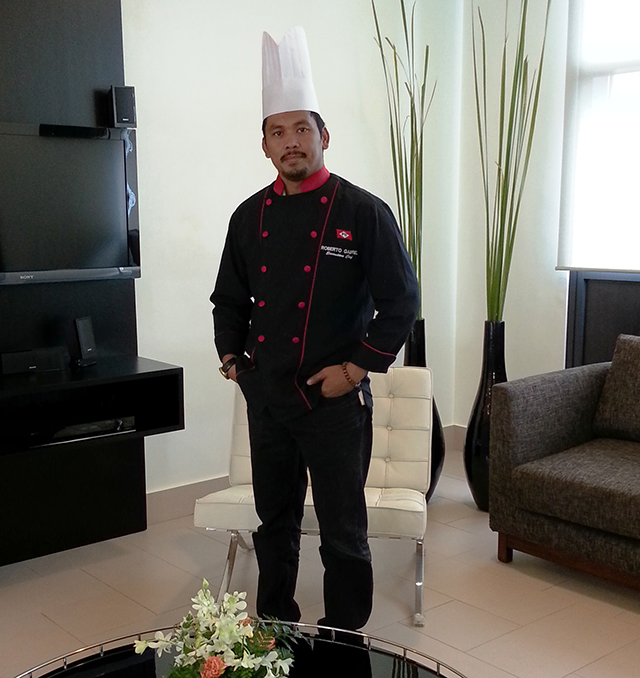 In keeping with their food safety policy, Executive Chef Roberto Gabriel of their Philippine subsidiary has recently availed of the hygiene products and services of Hygiene Science Inc. In an interview, Chef Robert reveals his thoughts:

What is Dohle main activity in the Philippines?
"We train our own ship crew for our global shipping services. We have 250 office employees at the present."

What makes you different from your competitors?
"Most shipping companies have food establishments. I have to rely on technology and training of my staff to improve our processes that make us ahead of competitors. But beyond this training and knowledge of the manpower and staff I have to have the right chemicals like Hygiene Pro (and "Pro" means "professional" to me). If I have these types of chemicals) I protect my staff and our crew, and I'm proud to know that my kitchen facilities are more advanced".

What made you try the Hygiene Pro?
"At first I had some doubts about the efficacy of the chemical (Hygiene Pro), but because of the numerous lab tests presented, and the impressive actual tests results in my kitchen, I decided to try it. I have a futuristic approach in our business to try out and fit in the technology. Life is about technology and we have to move forward with it."

Did the product increase your disinfection cost?
"The way I see it, if I use it as advised it is not too expensive especially if I compare it to the standard product that I am using."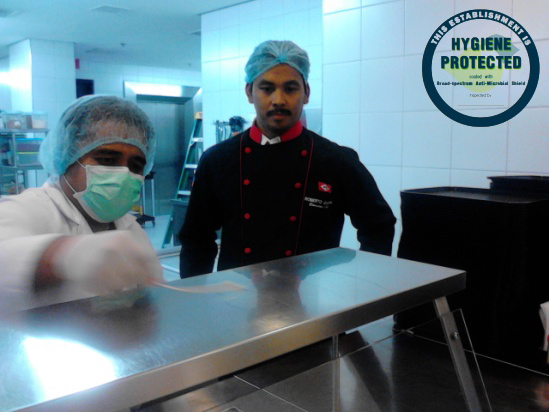 What was your experience?
"I found out that Hygiene Pro decreases the number or the volume of chemical that you use, environment friendly and safe on food, which is very important to us."

What should the world know about your company?
"We are devoted to being a world class ship management company with strong international presence. We are proud of our kitchen (we also call it galley) where we train the chief cook for the vessels, and now we train them in sanitation and hygiene. I think all ship management like companies should test and use Hygiene Pro and Hygiene 24 like we do. It's really a big disadvantage and sometimes fatal to have sickness out in the sea.

What hygiene goals are you trying to achieve?
"With what I know and what I've experienced, the concept of antimicrobial coating is more advanced and effective than plain disinfectant. I would like to see Hygiene Pro and Hygiene 24 being used in all the aspects of the building, such as the public areas like toilet and small pantries of the building. I will propose to top management to use them to make the areas safe from all kinds of contaminants. But now my priority is in the kitchen."

How do you feel about being "Certified Hygiene-Protected?"
"Well in these days, all companies in the same business are ISO certified. It would be to our company's advantage and pride to raise the hygiene standard through better technology, not cost. Being hygiene-certified is another feather on our cap. I am happy and my boss has peace of mind."